Fostering Long Life for Your Flooring in Wooster, OH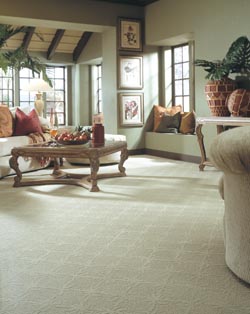 You and Martin Interiors Flooring America have the same goal in promoting the longevity of your flooring in Wooster, OH. Whether you choose hardwood, carpeting, luxury vinyl, or tile, the professionals in our flooring store want to see you living on and loving your new floors for many happy years. The key to that is maintenance. Let us provide you with some tips to take good care of your precious home flooring.
We start by recommending ways you can avoid damage to your flooring. All of our flooring brands deliver endurance, along with stylish good looks, but treating your surfaces with respect goes a long way toward ensuring their beauty and functionality. Our suggestions include:
Preventive Maintenance

Simple, little things can add years to the life of your flooring. One of the ways to do that is with floor protectors. Placing wide-bearing plastic protectors under the legs of couches, chairs, tables, and lamps prevents tearing, scratching, and matting, depending on the type of flooring you have in your home.

Another measure is to place area rugs on your floors. Look for high-traffic areas, such as entryways and underneath furniture groupings to extend the lifespan of your favorite floor coverings.

Then, too, it's important to remember to close your blinds to keep the sun from fading those handsome flooring surfaces.

Cleaning

Regular cleaning does extend the life of your flooring. The weekly routine of vacuuming or sweeping and mopping keeps dirt from grinding into the grout on tile or nap of the carpeting. It's also a smart idea to mop up spills right away. With care, your floors will look better and last longer.
Buying High-Performance Flooring
At our store, we're all about providing you with quality flooring that is fashion-forward and high-performing. We emphasize both. With our brand-name floor coverings from trusted manufacturers, you can expect style and practicality in one package.
Visit our showroom to see thousands of samples of different types, colors, and textures of flooring. We're confident we have exactly what the designer ordered to enhance the beauty of your home. In fact, our sales and design professionals have both product knowledge and design training to assist you in choosing floor coverings that fulfill your lifestyle demands and design preferences.
Our sales and design professionals are happy to schedule professional flooring installation to protect your new floors from damage. With our installation technicians on the job, your floors are yours to enjoy for a good many years.
Contact us today for more tips to make sure your floors have a long and happy life. We proudly serve customers from Wooster, Orrville, Doylestown, Rittman, and Smithville, Ohio.