Durable Laminate Flooring in Wooster, OH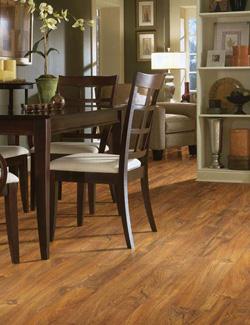 Update your home's interior with durable and beautiful laminate wood flooring in Wooster, OH. Laminate provides all the aesthetics of hardwood and stone tile at a significantly lower cost. Simply put, laminate floors are durable, economical options compared to many conventional flooring materials available today. Laminate is fabricated to look like stone or hardwood, and it is relatively inexpensive to make. Its ingenious interlocking design also allows the laminate to be installed quickly and easily, making this material the floor of choice for easy home renovation projects.
Laminate is Durable and Easy-to-Maintain
Since laminate is made from synthetic materials, laminate is much easier to maintain than carpeting or other types of flooring. All you need is a broom or vacuum and a damp mop to keep your floor looking good as new. On top of that, laminate flooring resists mold and doesn't retain unpleasant odors or allergens. Laminate is also specially engineered in layers that work closely to protect the integrity of your floor. This design ensures your floor's look will not be left worse for wear.
Laminate Options for Any Style
Give your home timeless appeal with laminate tile flooring. Due to modern manufacturing methods, laminate can replicate a variety of stone materials and patterns that suit your specific tastes and –best of all –your budget! From palatial slate to rustic terracotta, our laminate tile options give your property a personality of its own.
Wood imparts an ageless visual impact on homeowners and guests alike. Our company is proud to provide laminate wood flooring styles that closely resemble their natural hardwood floor counterparts. Choose from a variety of species, colors, and styles. Whether you prefer the traditional, rustic look of oak or a more elegant and exotic species of wood, we have options to suit every taste or style.
Prompt Laminate Flooring Installation
With its durability, ease of maintenance, a wide variety of styles, and cost-effective versatility, laminate is the go-to material for adding a stunning visual appeal to your property. When you find the style you love, our professional team of installers is more than happy to install it for you. Our laminate flooring installation services work with your schedule to achieve the ideal look you want in your home. Whether for a single room or for your entire property, we provide everything you need to transform your interior.
One of the benefits of this flooring is its quick and easy installation. Our technicians utilize the latest techniques and equipment to quickly and effectively install your new flooring so that it's sure to last for many long years. By leaving your installation to the professionals, you know your flooring will remain watertight, level, and durable for years. When you take advantage of our installation services, you're also covered by our Lifetime Installation Guarantee. If you ever experience installation-related problems with your new floors, we'll make it right at no expense to you.
Laminate floors are installed using a click-and-lock method. Not only does this mean you don't have to go through extensive downtime waiting on installation, but you also save money because you don't have to purchase more flooring than you need to cover your space. Many types of laminate are even able to be installed on top of your old flooring, making the installation time even quicker.
Ready to begin your laminate flooring project? Visit our showroom today to speak to a flooring specialist and browse all of the products we have available. We even carry other flooring materials including luxury vinyl plank, hardwood, carpeting, and more, so there is a flooring option to meet the needs of every room in your home!