Vinyl Flooring in Wooster, OH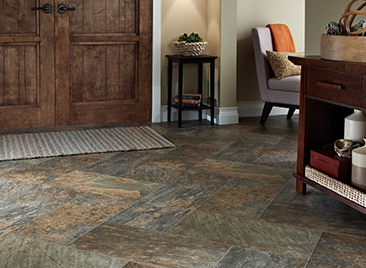 Advances in floor manufacturing technology mean that the latest vinyl products look and last exactly the way you expect. Designed to mimic other coveted flooring materials, our collections of vinyl flooring in Wooster, OH, is ideal for the busiest of households. If you are ready to replace old and outdated surfaces with vinyl, then look to our local store for the floors of your dreams.

As one of the area's most trusted flooring stores, homeowners and renovation contractors look to us for an exceptional vinyl selections featuring the most stylish options. From vinyl tile flooring to vinyl sheet flooring, and even vinyl plank flooring, we are proud to offer a wide range of products sure to impress in any room. You can depend on us to guide you through the entire flooring process, including selection and installation.
Take advantage of long-lasting floors by choosing vinyl to replace the old and outdated surfaces throughout your home. If it's time for you to invest in new floors, you can't go wrong with vinyl tile flooring. This popular vinyl style both looks and feels like your favorite tile fashions. From natural stone to popular travertine, there is a vinyl solution available to satisfy your unique expectations. The following are some of the benefits offered by our collections of vinyl tile:
Easy to Clean and Even Easier to Maintain
Available in a Range of Attractive Styles
Resists Scratches, Stains, Cracks, and Dents
Cost-Effective Alternative to Other Products
Why Choose Vinyl Tile Flooring?
For excellent water and spill resistance in rooms like the bathroom, kitchen, or laundry room, vinyl sheet flooring is a great choice. Its seamless quality allows large areas of floor to be covered in just one or two pieces of flooring. This prevents water from seeping in through the tiny cracks between pieces of flooring, which helps prevent mold from growing in your home. It is also available in a multitude of patterns and colors, so we're certain to have something to fit the décor you choose for your home as well as your project budget.
Shopping for new floors doesn't have to be a challenge. Make the selection process swift and simple by perusing the vinyl sheet flooring options carried by our local store. The knowledgeable in-store associates we employ are prepared to take your unique expectations into account during the selection process.

This allows them to make helpful recommendations that put you one step closer to finding the ideal vinyl for any room of the home. In a single visit to our location, you can make a purchase with the utmost confidence.
Do you want the impressive appearance of hardwood planks, but need the lasting durability of vinyl floors? Then consider investing in vinyl plank flooring. These vinyl planks are shaped and textured to resemble the timeless appearance of wood flooring.
However, man-made vinyl material doesn't experience problems commonly associated with solid wood. Because of its unique design, you don't have to worry about warping, bending, or buckling, making vinyl planks ideal for wet areas like the kitchen, bathroom, and even the basement.

One of the most popular home style trends for decades has been hardwood floors in a variety of species and tones. Their depth of color, timeless appearance and ability to work with any décor theme has made them a favorite for many years. Vinyl plank flooring has the unique ability to appear as virtually any species of wood, with all the detailed woodgrain pattern, color, and tone that natural wood has.
Whether you're going for an old-fashioned rustic vibe or a modern and sophisticated feel, this flooring provides an excellent solution. It is also a great alternative to hardwood floors for homes and families with children, pets, or a lot of foot traffic. The variety available makes this a great and cost-effective option for any home.
Specializing in Vinyl Flooring Installation
Our commitment to your satisfaction doesn't end when you make a purchase. We provide professional installation services utilizing the highest quality tools and techniques. We keep a team of experienced installers on staff capable of performing even the most-extensive projects with speed and skill.

We back every vinyl flooring installation service completed with guarantees and warranties unparalleled in the industry. One such guarantee is the unique promise we refer to as the Ultimate Confidence Guarantee. Should you be unsatisfied within 30 days of purchase with any aspect of your 4- or 5-Star Rated vinyl flooring, we promise to replace it with a comparable product for free. In addition, our Lifetime Installation Guarantee covers all floors installed by our technicians for life. Should you ever experience installation-related problems, get in touch with us and we'll fix the problem for free.

It's always best to leave your flooring installation to a skilled professional in order to keep it in great shape for many years. Our installers have the experience and equipment necessary to completely remove your old flooring, prepare the subfloor, and securely install your new vinyl floors. Whether you get vinyl sheet, tile, or plank flooring, we make sure to install it so that it is water resistant, straight and level, and long-lasting.
Contact us to schedule vinyl flooring installation with our team. We're proud to serve residents of Wooster, Ohio, as well as the surrounding areas.